A good tool makes the work go easier, faster, safer and, usually, more enjoyably. That's the Helle Temagami in a nutshell, and I could pretty much end this review right there because this is a hard knife to criticise. Basically, Helle got everything just right with the Temagami and it is by far and away the easiest non-custom knife to use that I have ever owned.
Pictured on my roving quiver, next to my 60 lb Ipe hunting longbow: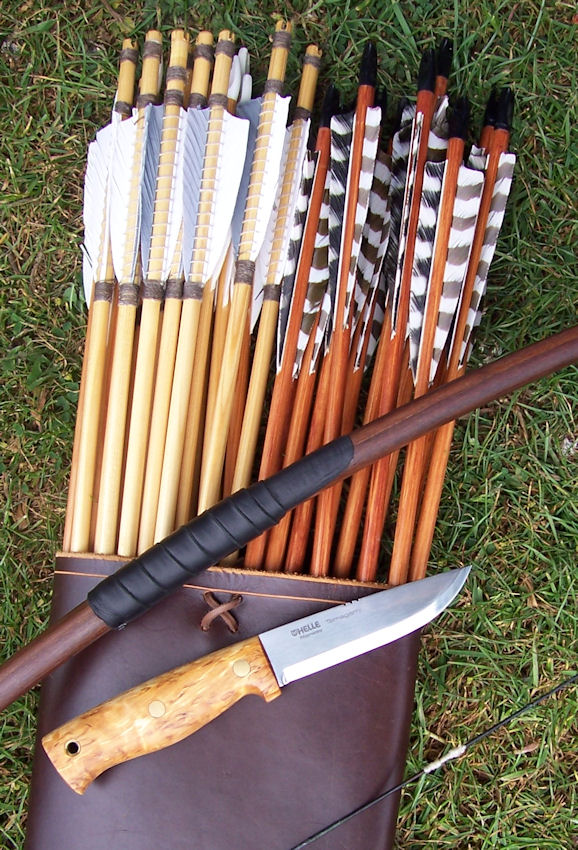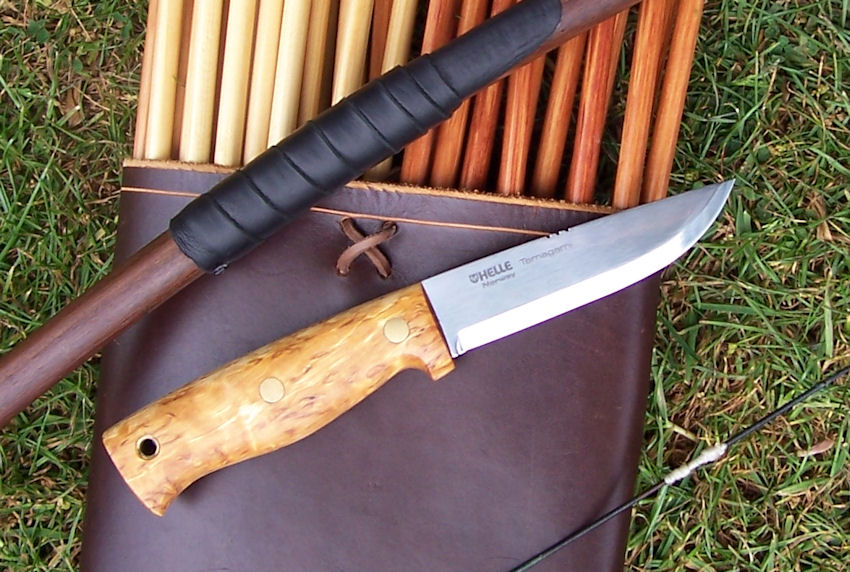 And next to some good company (Guy Stainthorp Bushcrafter above with a Joel Bolden Model 1 and Fallkniven F1 below) to give an idea of overall scale: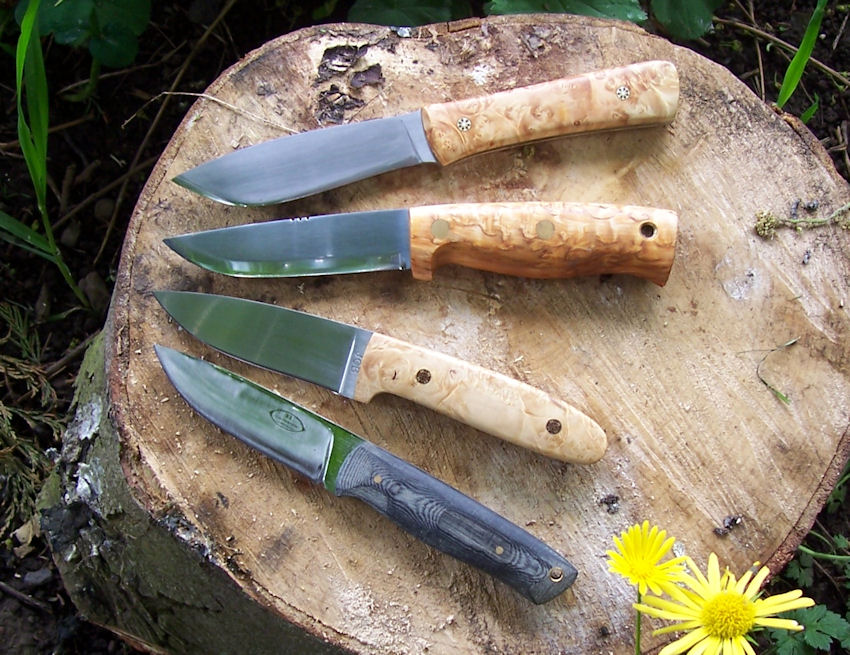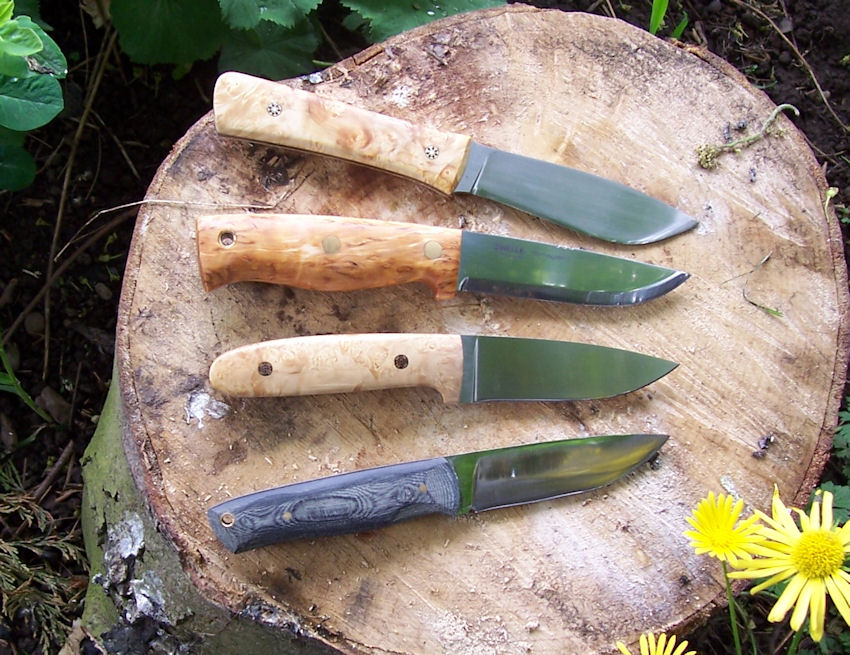 Notice how much more substantial the Temagami handle is by comparison: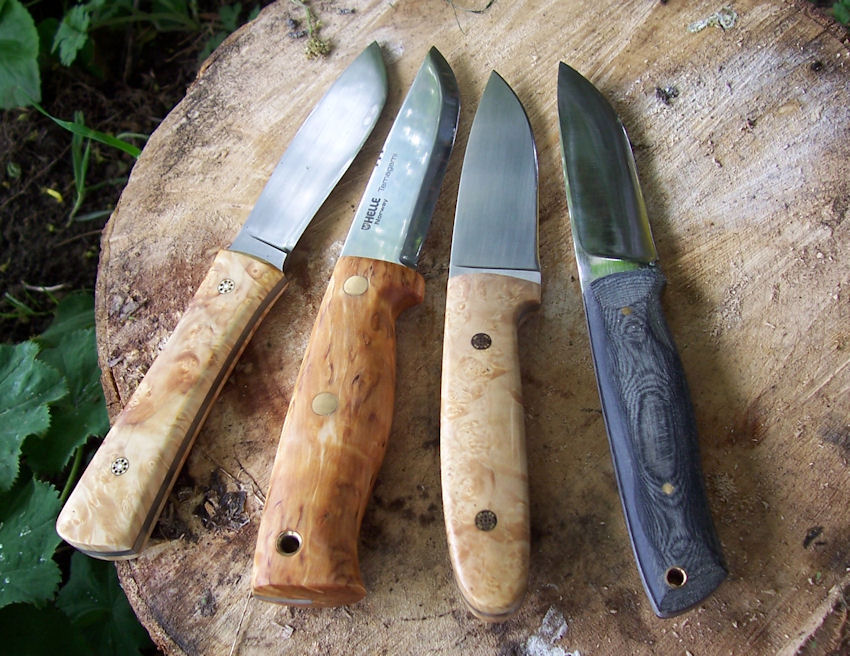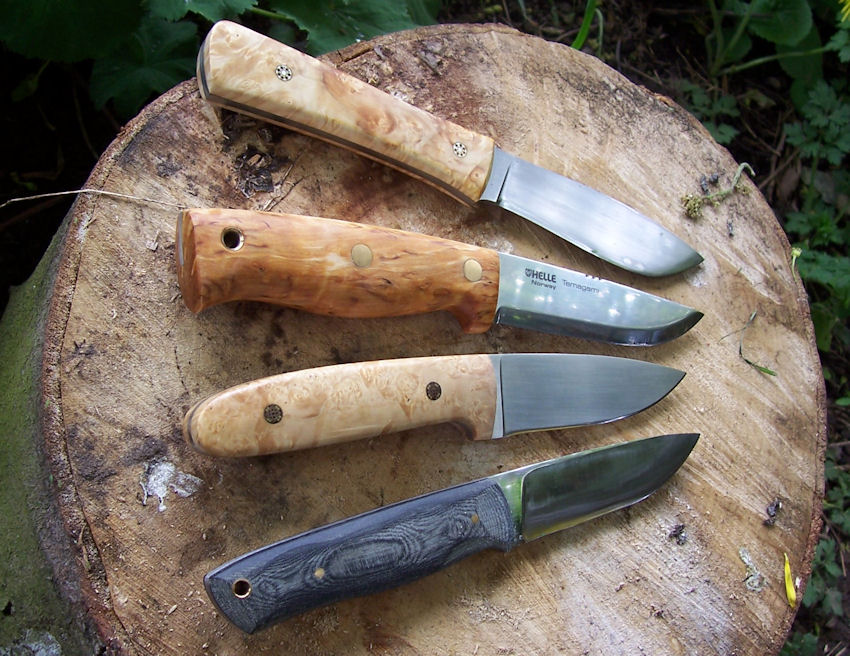 For scale, next to a Gransfors Bruks Mini Hatchet, with which it makes an ideal pair: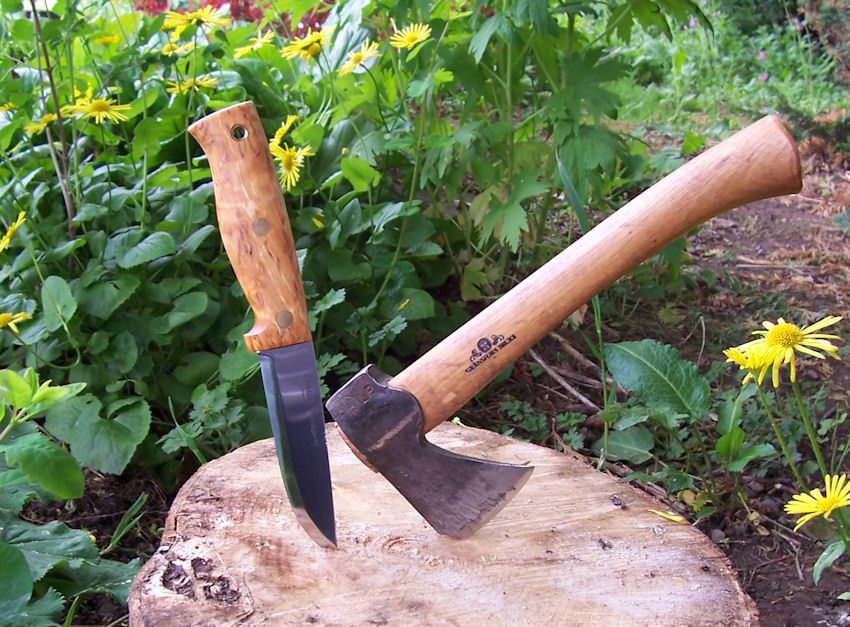 As soon as you remove the knife from its sheath it is obvious that here is a working knife that does not follow the current mainstream. The Temagami is a substantial knife – the handle is long, wide and deep and works incredibly well in every hold you can imagine, offering a positive and safe grip. Very impressive are the more subtle design features that place the tip and belly of the blade right where they need to be for safe, controlled work, without the user having to even try.
Ignoring the current popularity of 4mm (and over) blade thickness is a good thing in my opinion and helps make the Temagami a very efficient cutting tool indeed.
Out of the box the knife was incredibly sharp (Helle knives tend to arrive ridiculously sharp and this was no exception) and it stayed that way through a lot of use. Feather sticks were a breeze, as was processing fish (cod and trout, on two separate outings), rabbits, and ducks. I have yet to try it on larger game but if early indications are anything to go by there will be nothing untoward to report.
The traditional looking Scandinavian style sheath is safe for both the knife and user, having a wraparound plastic insert inside it to prevent the blade cutting through leather in the event of a fall or overenthusiastic placement in the sheath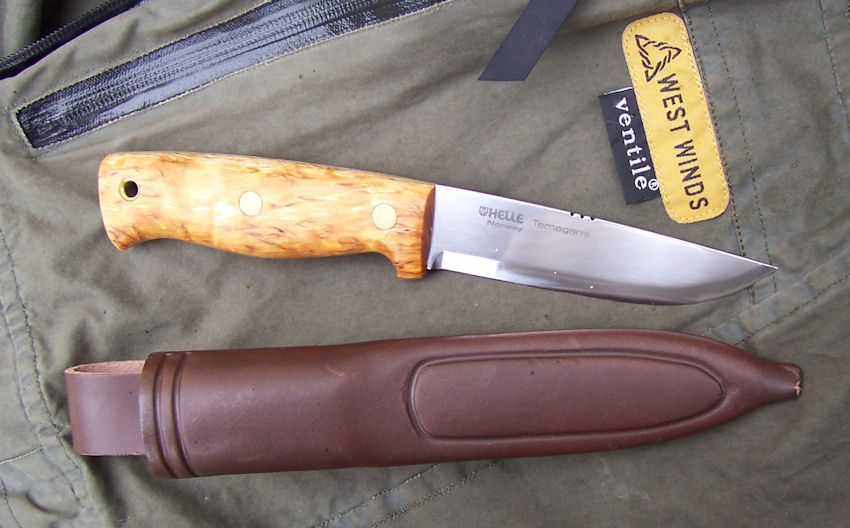 To date mine has been used in the kitchen for preparing meals, in place of a crooked knife to help shape the back of a longbow (after I found mine had been left on the Isle of Skye
), to prepare fish and game, to process the makings of fires and also to make the board and spindle for a hand drill, and it is a pleasure to use in all tasks.
I ordered two of the first production run knives in stainless, the idea being that I would play with one and the other would go into storage for my currently 4 year old daughter as and when she reaches a suitable age. I have just ordered a third in laminated carbon for my own use and to directly compare the stainless/carbon working attributes. One of these days my curiosity about such things is going to catch up to me
That should go some way to showing how utterly impressed I am with the Temagami as a working tool. Everyone I have handed the Temagami to has reacted positively to it in use.
Basically the Temagami is a real anomaly in that in use, it epitomises what a good outdoors knife ought to be - it offers great edge retention, low maintenance (mine is the first production run in stainless) a super-comfortable and versatile grip that correctly places the blade and, as an overall package, it really is difficult to fault.
I will update this in a month or two after I have worked the Temagami over a longer period but, so far, based purely on the last few weeks, it stands head and shoulders above an awful lot of the currently accepted de-facto bushcraft knives.