Well, now I have another one to put through some paces to see how well it holds up. Ever since Schrade, in my opinion, let poor business decisions in dealings with Wal-Mart put them out of business I have had reservations about buying products from what was at one time one of my favourite knife makers. Those reservations were not helped by Schrade being bought and re-set-up in the R.O.C. , however those reservations have been eased somewhat by personal opinions I've read on some of the new Schrade products so....
This is the new Schrade Extreme Survival Knife. It is based on the Chris Reeve Project I, and machined as best I can tell in near identical dimensions but at about 1/6 of the cost of the Project I.
Machined from one piece of "hi-carbon" 1070 SEA steel , with a threaded aluminium butt cap
12 5/8 inches over-all length.
With a blade thickness of 0.230" and length of 7.5" with a 1.5" section of serrations near the hilt (blade comes shaving sharp).
Kydex (I think, maybe ABS plastic) lined Nylon sheath with pouch that is M.O.L.L.E. compatible with multiple tie down points.
Tool kit in handle consists of 3 phillips driver bits #'s 0,1,and2, 3 flat head driver bits sizes (oddly in "standard" measurements rather than metric) 3/32", 3/16", and 1/4", 3 torx driver bits T-10, T-15, and T-20, 1 hex 5/64 hex head, a magnetic bit holder, and a rod to put through the lanyard hole for more tork, there is a set screw in the butt cap to hold this rod in place securely and that is what the 5/64 hex bit is for.
*** UPDATE***
In further study of this knife it is not as much an exact copy of the CRK as I first thought. The spine of the blade is ground differently at the tip making it a little thinner but perhaps allowing easier penetration. The handle is a little fatter, and the tool kit is nowhere near as fancy, hi-tech, or fashionable but just as functional as best I can tell so far. I have also edited the specs on it some as I have called the company to enquire about the type of steel, it is 1070 SEA hi-carbon steel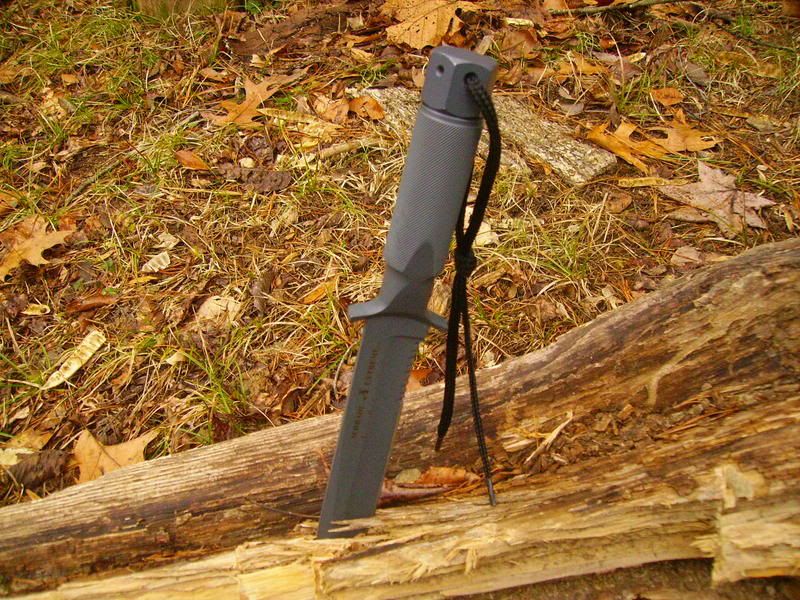 I haven't done a lot with it yet, just enough to quickly form an initial opinion. I have chopped a few dead limbs in my driveway with it the night I got it.
Then I made a couple stakes. This picture also shows the tool kit inside the handle.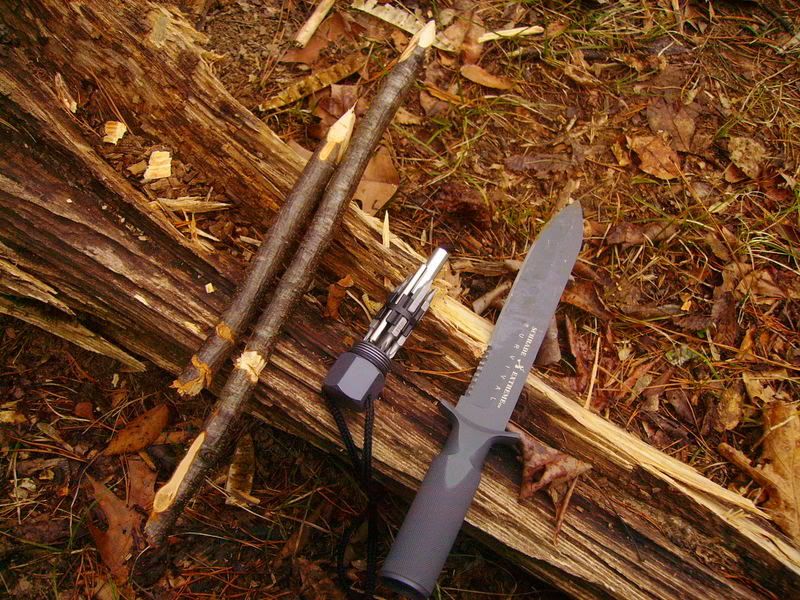 I've chopped a little fatwood as this is a really good test to see how soft the metal and edge of a knife is. However I didn't just chop, I chopped the blade in deep (with it's massive weight it chops very well) and then pried the pieces apart breaking them off, while I don't suggest doing this in the woods in a survival situation here at home I wanted to test this blade...it seems to make a good pry bar. Afterwards I just repeatedly chopped chips off of that knot for about five minutes.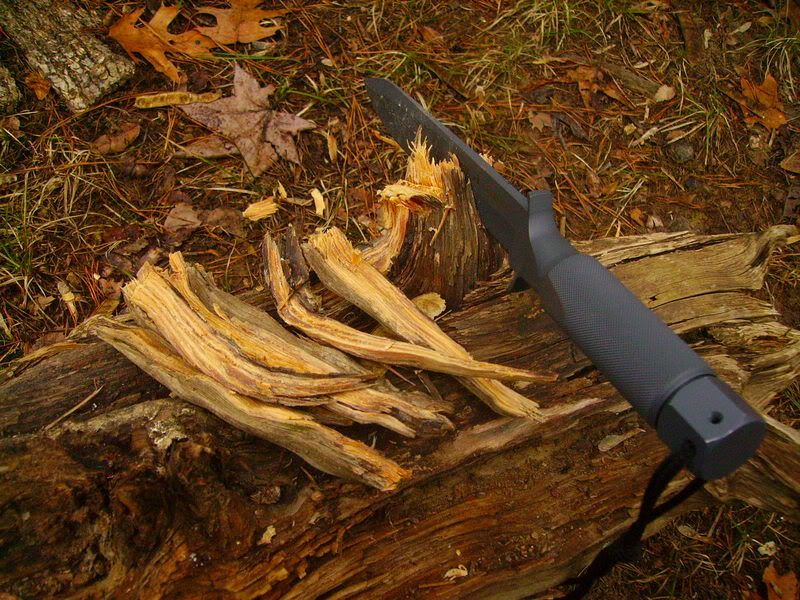 I chopped a couple of dead (but not soft) hardwood limbs in two out in the back yard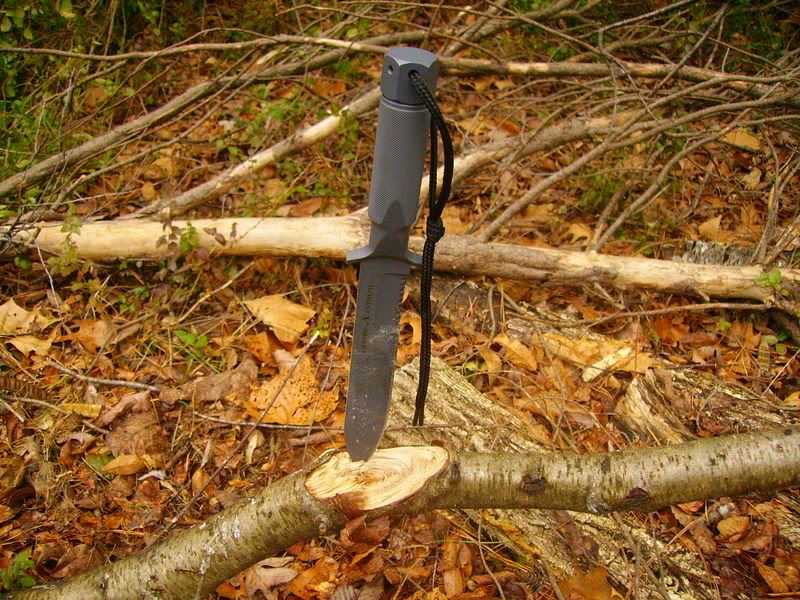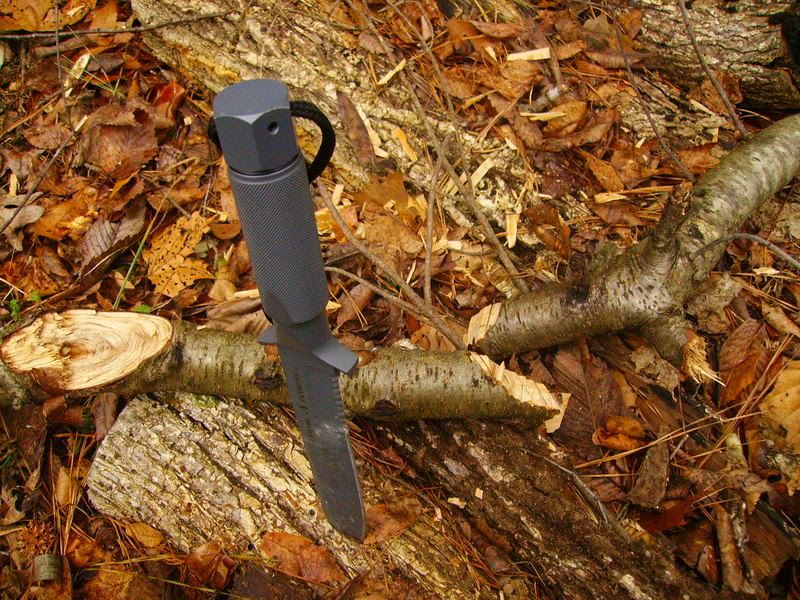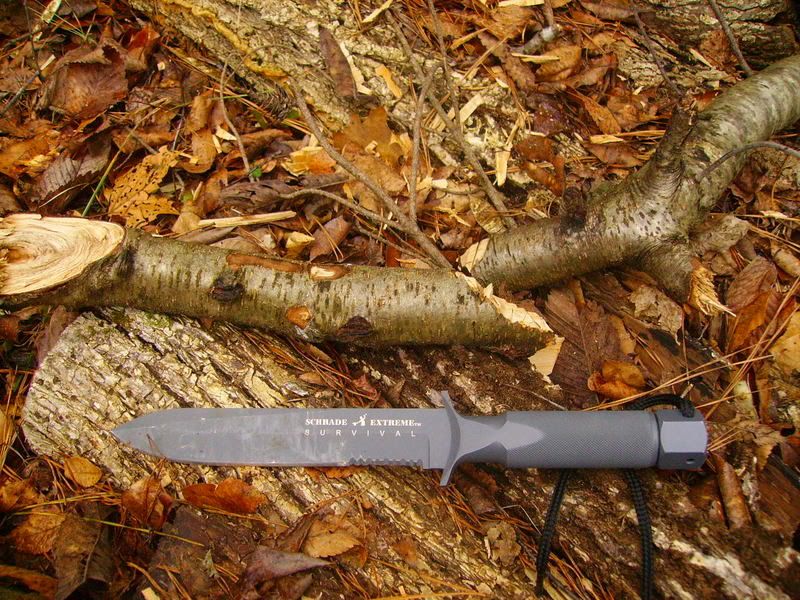 It is a bit bigger than what I am used to carrying, but the weight isn't bad.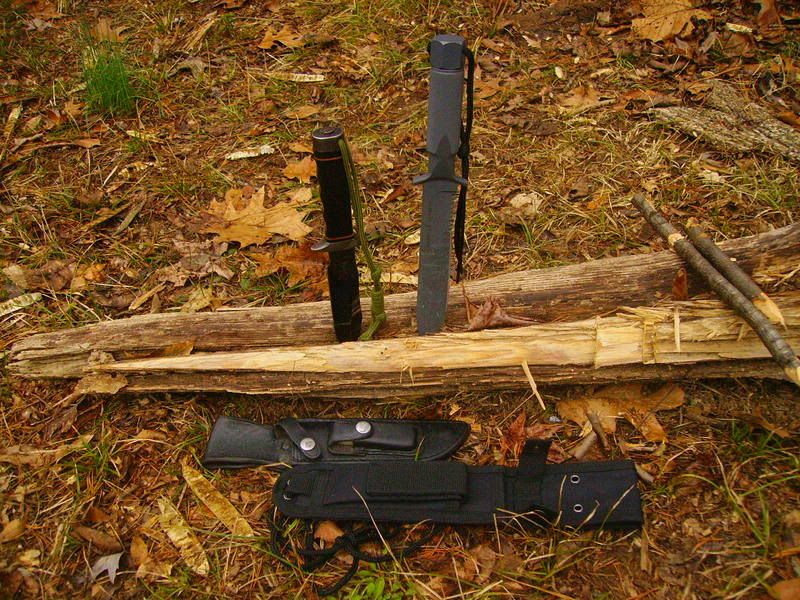 This is the balance point with the tools in the handle.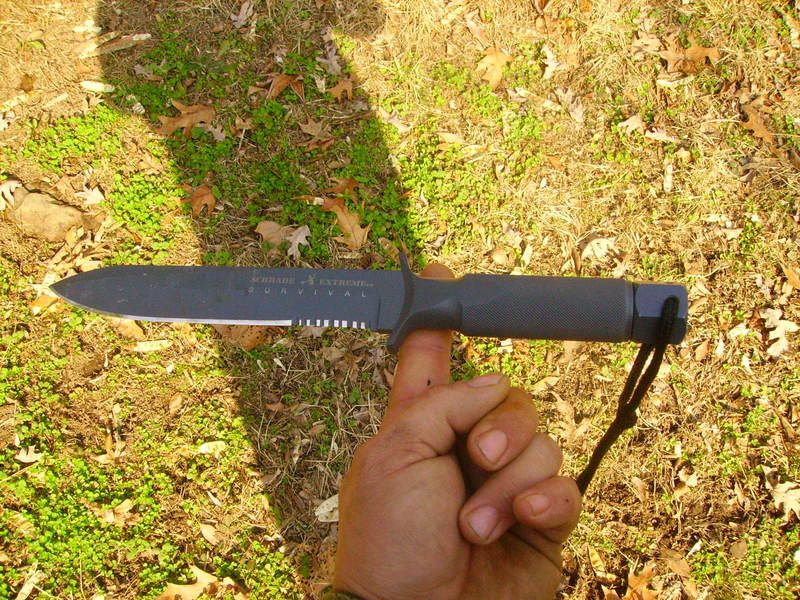 This is the balance point minus the tool kit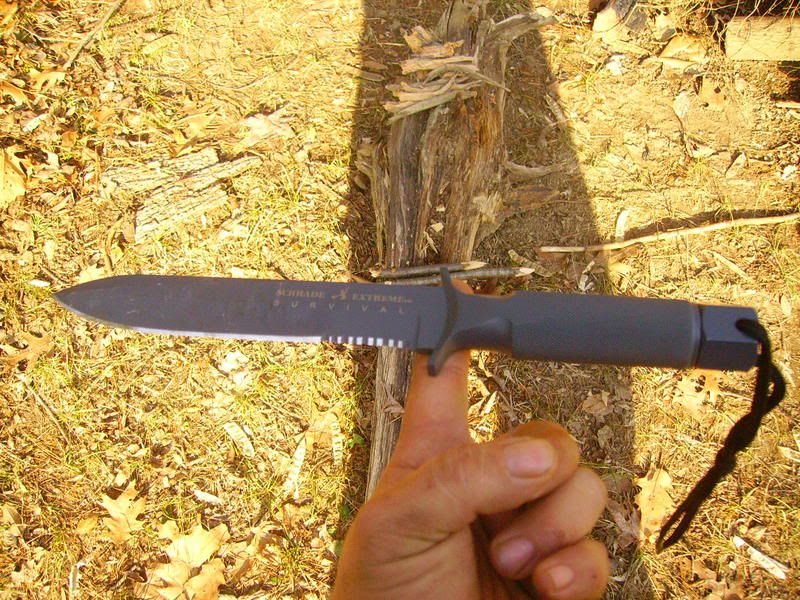 This shows the tool kit separated from the butt cap.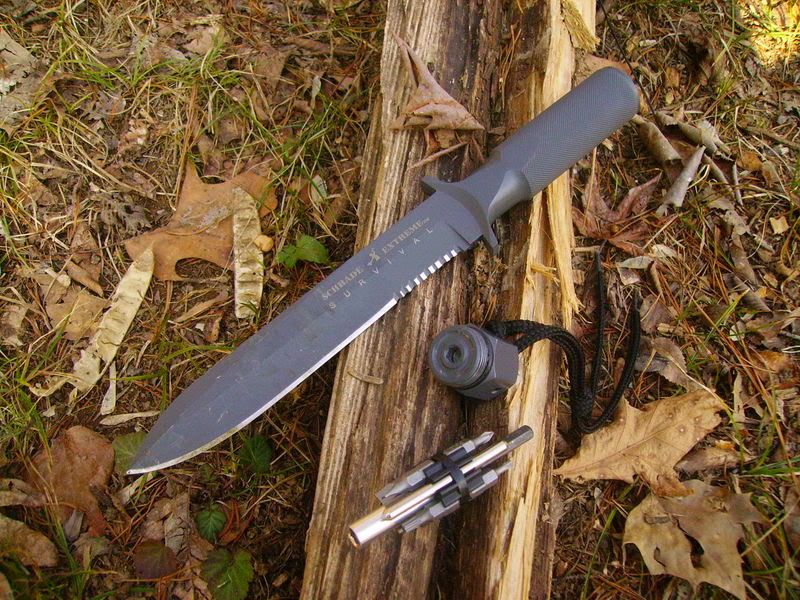 After what cutting, hacking, chopping and splitting I've done so far it still shaves and there is no sign what-so-ever of any wear on the edge.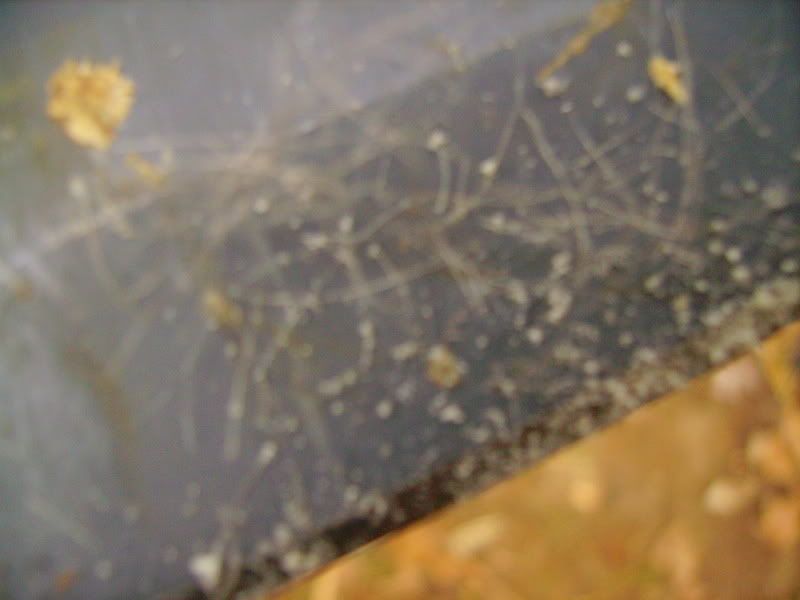 So...initial opinion, The knife feels good in the hand and is a very effective chopper, however when chopping the bits in the front portion of the carrier are thrown out of the carrier and rattle around in the handle. The steel "feels" good and the knife feels very solid. The grind lines are excellent and as near to perfect as a machine can get them. The serrations were a little over sharpened but function very well and cut rope, paracord and 2" webbing like hot butter. The handle does get quite cold when left in a vehicle over night in the winter so it is probably better suited to warmer weather/climate
I haven't worn it on any hikes so I don't have a lot to say about the sheath yet other than the blade moves around in it a lot and it produces more noise than I prefer.
All in all my initial opinion is that it is based on a proven design, seems to be well executed, feels good, the edge doesn't seem to be too soft (now to find out if it's too hard for practical use), functions well so far, but definitely better suited to warmer seasons though would have temperature issues in a desert environment as well. For any soldier the sheath would require some attention to produce a little noise discipline and I am going to look into making a kydex sheath for it. So far I think it is likely worth the asking price.